Web Optimization in Montreal
Put your website online is not enough to ensure its visibility online. You created on your own or using a developer, or team, and design and experience afforded you like. But you must also implement the methods it is found and seen on search engines such as Google, Yahoo, Bing : This is the Web SEO.
Or natural SEO ranking (Search Engine Optimization) is a mixture of technical, which, worked in symbiosis, help you increase the visibility of your website on search engines to attract more qualified traffic.
What is & lsquo; natural web ranking' ?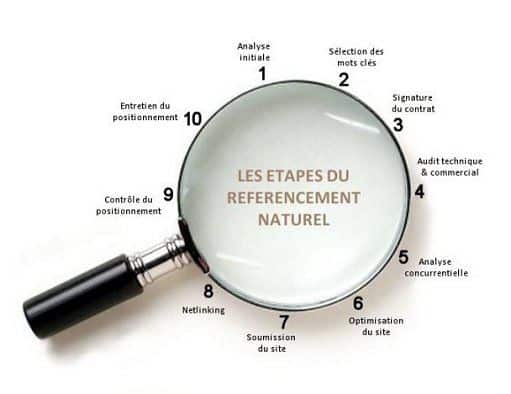 Website SEO Natural s & rsquo; opposes traditional marketing techniques of paid search engines, whose PPC (Ad Words) placing a certain amount of money per click on certain keywords and groups of keywords. It is possible to artificially attract traffic and visitors to its website. Technical expensive and less effective as educate visitors to the lack of relevance of paid links, the organic or natural search engine optimization s & rsquo; is imposed on businesses and marketers as a reliable and robust solution & rsquo; attracting qualified leads without subsequent expenses.
Optimizing your site for SEO therefore simply means, clean every aspect (interne ou externe) its site :
Pay your SEO campaigns will decrease gradually, as your rankings for the same keywords will increase in the natural results of search engines. You will find an equivalent traffic and more qualified, without spending for it.
Long-term SEO web
The natural optimization operations necessarily involve your site improvement, online all point, your website. Natural SEO is now a solid web marketing, Clean Development, en bref : it only reflects a healthy business. More, filters prevent penalization, (as was previously possible) building 10000 incoming links in one day without getting thrown to the tank to sand.
We build, together, the steps to be taken towards you closer to your goals :
→ the first results page of search engines for your chosen keywords
→ a gradual increase your organic and natural traffic unrelated to your brand.
→ better conversions because of optimizing your pages
→ a substantial reduction, or total cost of your online advertising (Ad words)

Aim natural SEO !
It only remains to implement all the points explained in your SEO recommendations, and forward to your in-house team, important things to watch. Do not panic ! We adapt the technical jargon to all our stakeholders, so that you can implement as soon as possible,