Link Building
Link building is a discipline designed to create incoming links in order to obtain higher rankings. Ranking algorithms are now made up of thousands of signals, but backlinks are still a key element in assessing a page's quality.
Precautions used on the Link Building:
Google and major search engines have embarked on a crusade against any attempt to manipulate rankings. All of the penalty filters put in place have disrupted many online businesses for several years, helping to create a sense of panic and confusion about the relevance of backlinks in any SEO strategy.
Return links are still a major part of a site's credibility-assigning strategy for Google. Indeed, for the search engine, the number and strength of links pointing to a target is a serious sign of confidence. However, due to the multitude of backlink acquisition techniques that have developed in recent years, search engines have penalized directory networks, blogging networks or submissions of paid articles. More and more, 'natural' links are privileged, in order to gradually build the authority of a domain and deeper pages. Any backlinks construction follows Google's SEO recommendations in that:
The deployment of links is not done in a single segment and can be traced
The link provides a useful amount of information for the user
A social activity around these links attests to their veracity
The performance indicators of the links themselves contribute to those of your site
How do we help?
We treat each market independently, and manually analyze possible partnership opportunities in your niche to build contextual relationships.
Our unique tools target better quality sites to deliver useful content. Generally, we work this content together to enhance and adapt potentially viral knowledge. The use of a unique technology allows us to simulate a natural activity around this content: creating and sharing blogs, creating and sharing articles, local mentions, bookmarks, RSS, comments and much more.
The origin of these links is geographically controllable to adapt to each market. The publication of these links is delayed in time in order to avoid any tracking and 'pattern'.
Finally, we unique tools regularly check, validate and monitor the quality of these links. A campaign is never isolated, and a link is always shared by real people to attest to its authenticity.
We support:
Construction, real estate or agency, there are thematic directories depending on your field of activity. Directories with a strong Page Rank will have a powerful impact on your website.
To improve your local referencing, local directories allow your company to stand out on search engines based on its location.
Creating an article with unique content that integrates your company's keywords generates better organic traffic to your website.
The presence of a link on bookmarks sites contributes to the increase in natural traffic to your website when your link is not considered malicious.
Web 2.0 is full of possibilities to create quality links for your business, whether through interaction between users or social media presence.
Posting an article with relevant keywords and a link to your website on a high-influenced blog will only increase your company's Page Rank.
Actively participating by posting comments on blogs related to your field of activity contributes to your online visibility.
By integrating an RSS feed, you're sharing quality information and links about your business.
Designing a video about your business and its services shows the interactivity of your business, while building quality links on social platforms.
Expression engines and forums:
Posting articles and participating in discussion forums related to your activity is a great way to generate more traffic to your website.
Writing a press release to promote your business on online platforms allows you to benefit from excellent backlinks.
With the writing of small blog posts that will be published online, you build qualitative links for your website.
Only partnerships, thematic directories and commentary from blogs and forums go through a manual process exclusively. All other backlink segments should be treated as a priority, with the aim of benefiting every step of the creative process (create the article, bookmarker the article, social sharing of the bookmark, web 2.0 mention of social sharing, etc.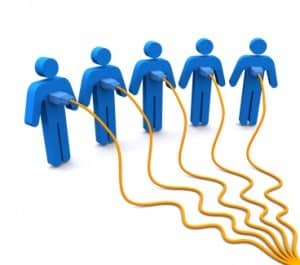 Thematic directories: Because of the penalty criteria that have touched the directories, it is important to select them manually according to the contextual proximity, and the Page Rank of the site. We then use semi-automatic submission software to make the most of the time dedicated to this part of your strategy.
Unique texts: In order to maintain the strength of a return link from a single article 100, we change the form of the text according to different synonyms, while retaining the interest of the initial message. This process is semi-automated.
Submission of articles: