Audit SEO

We might as well not hide it: without advanced technical expertise, more or less complex sites will have little chance of shining on Google. Although we advise the involvement of an SEO agency in Montreal, certain criteria can be met so that everyone can carry out their own SEO audit, in the most professional way possible, and without using too many paid tools.
We will guide you step by step to optimize your website and improve its ranking on Google. A thorough SEO audit is essential to identify optimization opportunities and issues that may affect your site's visibility in search results. So, here we go: let's dive into the details so you can outperform your competitors and get a high ranking on Google!
The goal of natural referencing is to optimize the positioning of a website in search engines. However, it is important to respect the essential steps to achieve such a goal. The SEO audit is a fundamental work that will increase the performance of your site. This purely technical work needs to be carried out in a rigorous and forward-looking manner.
BlackcatSEO offers its customized solutions for the effective diagnosis of malfunctions in your domain.
The SEO audit: a strategic choice
In the frantic race for the best positioning on SERP, website owners often forget the essentials. Before you hope to benefit from the confidence of Google's algorithms,you will need to master how your site works. It's a highly strategic option to distinguish your business from the competition. The purpose of SEO analysis is therefore to identify the weak points of your website. The drop in natural traffic on your site, for example, does not necessarily mean that customers are not interested in your products. You certainly go down the rankings, which does not allow your prospects to be informed of your existence. Many obstacles can cause this loss of performance. Thanks to a technical audit of your site, you will have a synthesized table of difficulties and corresponding solutions. A site that is regularly audited will continue to improve its Google ranking.

BlackcatSEO Audits are UNIQUE.
Our experts have homemade tools, as well as a multitude of known and paid tools, such as SEMRush, MOZ, Ahref, or Screaming Frog – big names well known SEO.
We mix each insight into a logical formulation, and oriented towards groupings and ease of implementation
. From strengthening the authority of keywords to quality backlinks and netlincks, our agency offers a technical audit focused on 4 fundamental pillars.
Technical audit of the site
Search engines are now very demanding in terms of user experience. The more time people spend on your site, the better ranked you are. Indeed, search engine sensors are sensitive to this type of signal. But it is not possible to make visitors feel at ease if you do not detect the weak points of the website. BlackcatSEO specialists offer to evaluate the loading speed of your site. Is it suitable for mobile browsers, BlackcatSEO's SEO analysis will answer this question. Our agency will evaluate whether the performance of your site has enabled you to achieve your marketing or sales goals. This is a point that will make the field more effective.
On-site audit (on-site content)
Natural REFER and content marketing go hand in hand. We understood this at BlackcatSEO. To do this, we focus on the quality of what you publish on your site. The on-site auditinvolvesthe study of keywords, tags and titles. These brief descriptions optimize your positioning in the SERP. We have experienced web writers to write you good-density paragraphs. These are often overlooked criteria, but weigh heavily in the indexing balance. During the on-site audit, we also focus on the presence of error pages. It is a practice that informs about the obsolescence of a page. It prevents the user from wasting his time.
Off-site audit (off-site)
SEO referencing is not done in a vacuum. We will provide you with quality external links to strengthen your site's authority with indexing robots. For them to actually bring you visibility, netlinks must come from sites of great renown. We have the opportunity to position you on institutional pages that enjoy the trust of indexing robots.
Strategic recommendations
At the end of this technical work, we summarize our diagnosis in a document. Once received, you will have a clear idea of the health of your site. It is a comprehensive assessment that encompasses the strengths and weaknesses of the audited site. This objective analysis highlights all the barriers to proper indexing of your site. But we don't stop at this stage of diagnosis. We recommend that you take steps to improve performance. These are strategic recommendations with a follow-up plan. Indeed, we help you identify web opportunities that can facilitate a good positioning. At the same time, you will have the information you need to evaluate the progress of your site.
BlackcatSEO: the best of natural referencing
BlackcatSEO stands out for its personalized customer tracking, which makes it possible to distinguish your business in the competition. Each site needs specific solutions and our technical audit is done without a priori. Only the results will form the basis of our strategic proposals. You can join this community of more than 300 customers who have trusted us in recent years. Our good listening makes it possible to find the most effective methodology to optimize site referencing.
The steps of a successful SEO audit every time.
In-depth keyword analysis
A thorough search for keywords relevant to your industry is the first step in any good SEO audit. Identify the keywords that are most searched for by your target audience and make sure they are smartly integrated into your content.
A well-organized and user-friendly site structure is essential to make it easier for your visitors to navigate and explore Google's crawlers. Make sure your site has a logical tree structure, with clear and relevant internal links.
Page loading speed is a crucial factor for SEO and user experience. Optimize image size, use browser caching, and make sure your site is hosted on a reliable server to improve load times.
Content is king! Make sure your content is informative, original and adds real value to your readers. Avoid duplication of content practices and favor long, detailed articles that cover all relevant aspects of a topic.
With an increasing number of users browsing the internet from mobile devices, having a responsive and mobile-friendly website is essential. Check the usability of your site on different platforms and make sure that all elements are clearly visible on small screens.
Analysis of inbound and outbound links
Inbound and outbound links play a crucial role in your site's SEO. Identify the sources of quality links that point to your site and make sure your outbound links point to reliable and relevant sites.
Meta tags, such as title and description tags, are important for providing relevant information to search engines and users. Be sure to optimize these tags with the appropriate target keywords.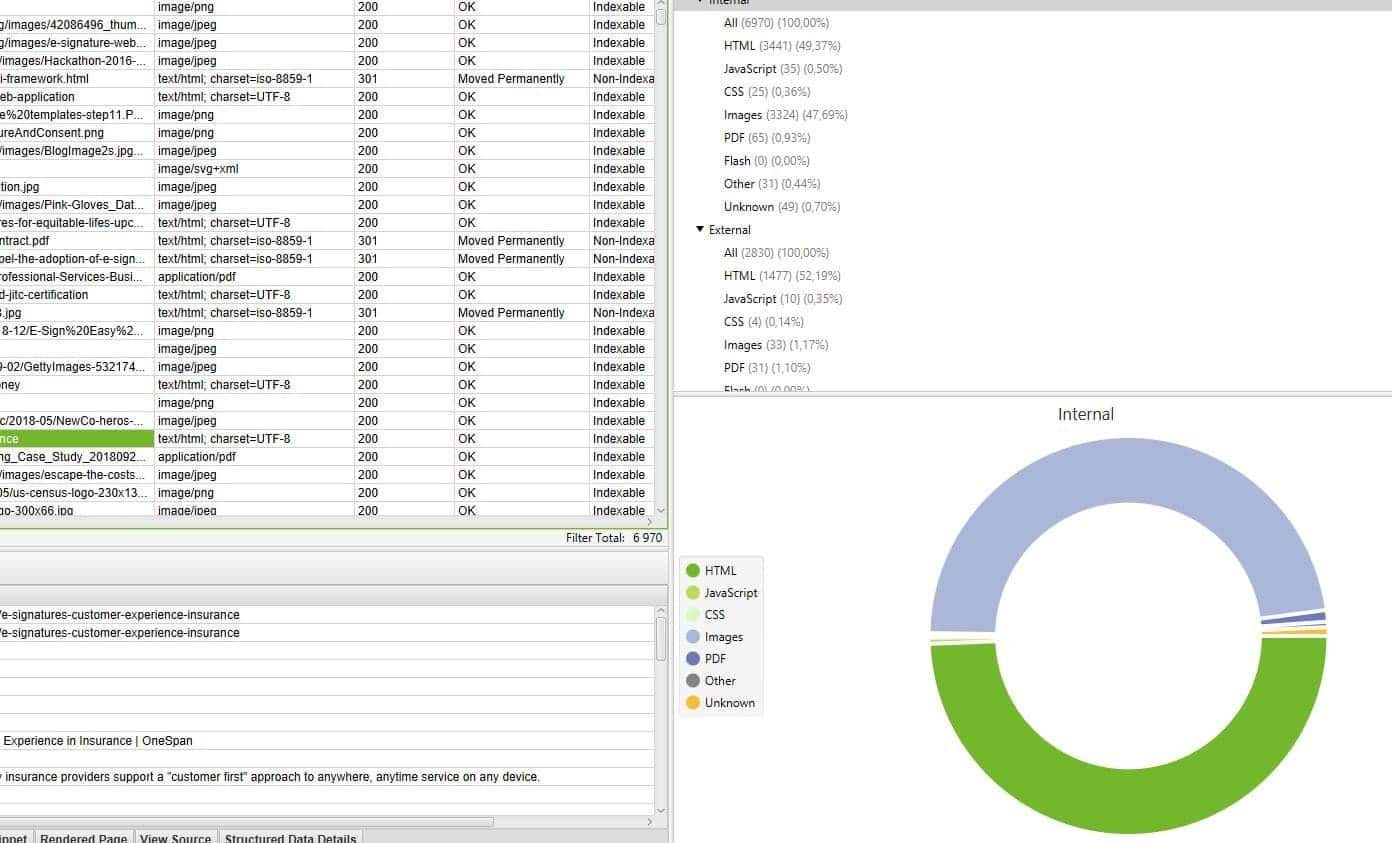 SEO Audit Tools
To carry out a complete and effective SEO audit, there are several tools available on the market. Here are some of the best tools we recommend:
1. Google Search Console
Google Search Console is a free tool offered by Google that proves to be an indispensable ally for all website owners. It offers you a wealth of information on how your site performs in Google's search results. More than just a tracking tool, Search Console gives you valuable insight into your site's visibility, keywords that drive traffic to your site, Google's indexing of your pages, and any technical issues that could hinder your visibility. In addition, it offers personalized suggestions to improve your SEO, making it an indispensable tool to optimize and adjust your SEO strategy.
2. SEMrush
SEMrush is much more than just an SEO tool – it's a complete suite of digital marketing tools. This versatile platform offers an impressive range of features, from keyword research and competitor analysis to ranking tracking and SEO auditing your site. It not only allows you to understand the strengths and weaknesses of your own site, but also to analyze in detail the strategies of your competitors. It helps you discover new keyword opportunities, monitor ranking fluctuations, and identify gaps in your content. A real Swiss army knife for natural referencing and digital strategy.
3. Ahrefs
Ahrefs is considered a reference in terms of inbound and outbound link analysis. This tool is essential to understand the backlink profile of your site as well as those of your competitors. It allows you to discover where your competitors' links are coming from, which can help you identify new quality link opportunities for your own site. Ahrefs also offers an overview of how your backlinks are performing, including the value of each link, referring domains, and the most linked pages. It is a valuable tool for developing and monitoring an effective link-building strategy.
4. Screaming Frog
Screaming Frog is a robust SEO crawler that deeply explores your website to extract valuable information. This tool provides detailed reports on various aspects of your site, such as server errors, redirects, missing tags, page titles, meta descriptions, and many other key elements of technical SEO. It also allows you to identify issues that could harm the user experience or hinder search engine crawling and indexing of your site. With Screaming Frog, you can perform a complete technical check of your site, which is essential to maintain and improve the health and performance of your site.
Mistakes to Avoid
When performing an SEO audit, there are some mistakes that should definitely be avoided. Here are a few that could hurt your SEO efforts:
Substandard content that does not add value can be a considerable drag for both search engines and users. Poor, tasteless and substanceless text only deter your readers, thus decreasing the visibility of your site. It is therefore crucial to ensure that you generate content that is not only relevant and informative, but also written with great attention to detail. By developing content that meets the expectations of your target audience, you boost their engagement and strengthen their loyalty, while simultaneously improving your positioning in search engine results.
The judicious use of keywords is undeniably an important element of SEO. However, exceeding the limit can be counterproductive. Google and other search engines consider excessive keyword overuse, commonly known as "keyword stuffing," as an attempt to manipulate search results, which can result in severe ranking penalties. It is therefore preferable to favor a natural and fluid use of keywords, which blends into the context of your content, while remaining relevant and informative for your audience.
Meta tags play a crucial role in communicating the purpose and topic of your page to search engines. They act as contextual signals that help Google and other search engines understand and properly index your content. Failure to optimize these meta tags, or omission of them, could lead to misinterpretation or indexing of your content by Google, which could negatively impact your ranking in search results.
In the SEO world, quality always trumps quantity, and this also applies to inbound links. Getting links from spam or low-authority sites only hurts your reputation and search engine ranking. Instead, focus your efforts on getting high-quality links from relevant and reliable sources. These links act as votes of confidence, not only increasing your domain authority, but also user and search engine trust in the trustworthiness and relevance of your content.