What is a Keyword Study?
Keyword research is an essential practice for your online business. Every day, millions of people search search engines for the purpose of finding a wealth of information. For example, they might be looking for tips on how to prepare a delicious Italian dish, find public transport schedules, or compare ticket prices for sporting or cultural events. Each of these searches represents a unique opportunity for your company to be noticed by potential customers.
However, to take advantage of these opportunities, it is crucial to understand what people are actually looking for and on which keywords you need to position yourself. The central objective of keyword research is precisely to decipher users' search behaviors, identify the most relevant terms and choose the best keywords to optimize your SEO. This will allow you to create content tailored to your visitors, positioning yourself as the ideal answer to their queries.
The analysis of keywords is materialized by a complete list of the different queries formulated by Internet users. This list is then sorted according to different criteria, such as relevance, search volume and competition, in order to provide you with the necessary information to guide your SEO strategy and attract qualified traffic to your website.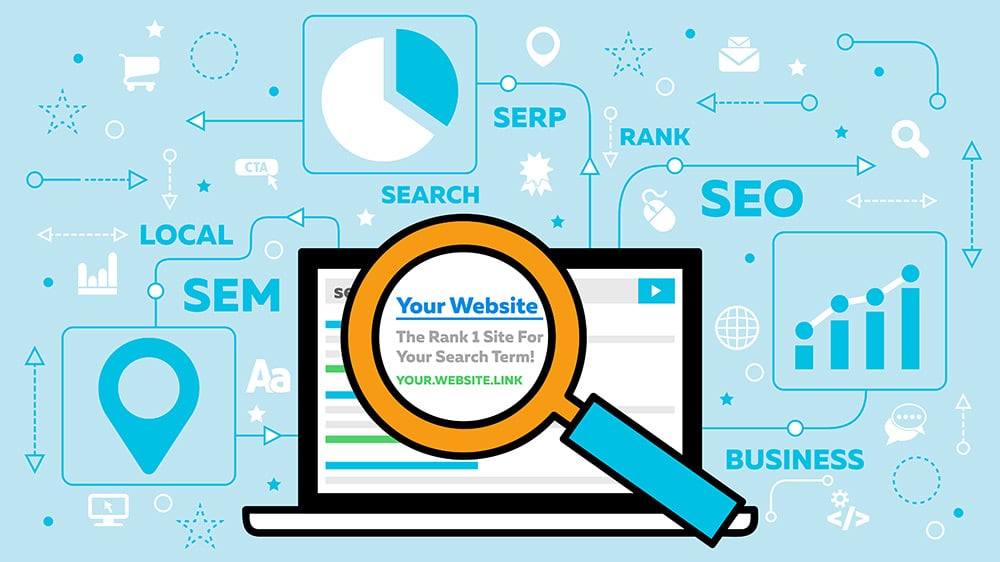 Different approaches to keyword research
There are different approaches to conducting keyword research, just as there is no single way to learn SEO. At BlackcatSEO, we have our own method, which includes the following steps:
Keyword idea generation: We start by coming up with a variety of keyword ideas using keyword research tools, analyzing the competition, studying market trends, and considering the needs of your target audience.
Keyword difficulty assessment: We associate each keyword with an estimate of its difficulty, based on criteria such as search volume, existing competition, and other relevance factors. This helps us determine which keywords are most appropriate for your SEO strategy.
Keyword sorting: Once we have a list of keyword ideas, we rank and organize them based on their relevance, traffic potential, and fit with your content and goals.
Selection of the most relevant keywords: Based on our evaluation criteria, we choose the most relevant keywords for your business. These are the ones that have the best balance between search volume, relevance to your business, and competition.
Each keyword study is unique and tailored to your specific business. Our goal is to help you identify the most effective keywords to improve your search engine rankings and attract qualified traffic to your website.
Why is this crucial?
For a solid SEO strategy, keyword research is of paramount importance. It can even help you adjust your overall marketing strategy. The queries made by Internet users reflect their real needs, and it is strategic to identify them to respond effectively.
Through keyword research, you will be able to obtain the following information:
The size of your market: Different tools provide the monthly volumes associated with a query. This will give you a pretty good overview of how many prospects might be interested in your product.
The products, services or information your prospects are looking for: thanks to keyword generation tools, it is possible to know what questions users are asking. Are they looking for a price? A service nearby?
Trends in this market: it is also possible to obtain search volumes over the last few years, which will allow you to know which terms are less and less searched, or on the contrary which are exploding on the web.
Seasonality: by looking at 12-month search data, you can see when people do the most research in your industry and calibrate your blog post publication calendar, for example, on this seasonality.
The place of your competitors on the web: it is sometimes useful to look at how and where your competitors are positioned to adjust the final keyword strategy.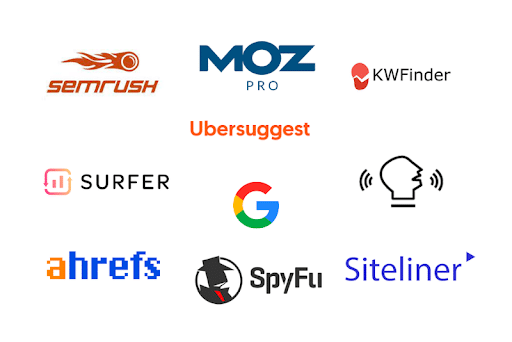 The help of valuable analysis tools!
Ahrefs is a powerful tool for SEO that provides a multitude of features to improve the online visibility of a website. This tool allows you to analyze backlinks, track keyword rankings, perform keyword research, analyze competition, monitor market trends, and much more. Ahrefs offers detailed data on a website's performance, including organic traffic, referring domains, and positioned keywords. Through its in-depth analytics, Ahrefs empowers SEO specialists to make informed decisions to optimize their SEO strategy and improve their ranking in search results.

SEMRush
is a very powerful SEO tool that offers a multitude of features for the study of keywords related to your website as well as those of your competitors. It provides valuable insights into competition, site positioning, and keyword visibility in search results.
With SEMRush, you can:
Analyze the competition: Identify the top performing keywords used by your competitors, examine their ranking in search results, and gain insights into their SEO strategies.
Perform keyword research: Get a list of keywords relevant to your industry, discover their monthly search volume, and assess their difficulty in choosing the ones that will offer the best traffic potential.
Track keyword positioning: Get regular reports on your keywords' position in search results, identify opportunities for improvement, and track your website's performance against your competitors.
However, it's important to note that tools can't do everything for you. While SEMRush is a powerful tool, it also requires your expertise and thought to get the best results. You'll need to analyze and interpret the data provided by the tool, as well as consider your knowledge of the market and audience to make informed keyword decisions. The alliance between the use of tools and your human judgment is essential for a successful SEO strategy.
The
Google Keyword Planner
is frequently cited as one of the most popular tools for keyword research. Although we do not consider it the best tool to analyze the competition, it is extremely user-friendly and allows you to generate keywords as well as access their search volumes. In addition, it offers the possibility to consult data on previous months or years, which makes it possible to study the growth and seasonality of keywords.
Moz is a versatile and renowned tool in the field of SEO that offers a multitude of features for keyword analysis and optimization of your website. It provides detailed information about the competition, rankings, keyword visibility and much more.
With Moz, you can:
Perform keyword research: Get suggestions of keywords relevant to your business, analyze their search volume, difficulty and traffic potential in order to choose the best keywords for your SEO strategy.
Analyze the competition: Identify your competitors in your field of activity, evaluate their ranking in search results, discover the keywords they use and understand their SEO strategy to improve yours.
Track keyword positioning: Get regular reports on the position of your keywords in search results, identify fluctuations and optimization opportunities to improve your ranking and visibility.
Explore links and link building opportunities: Analyze links pointing to your website, identify quality link building opportunities, and monitor your backlink profile to build your site's authority.
By combining the use of Moz with your human judgment, you will be able to gain valuable insights to optimize your website and improve your SEO strategy.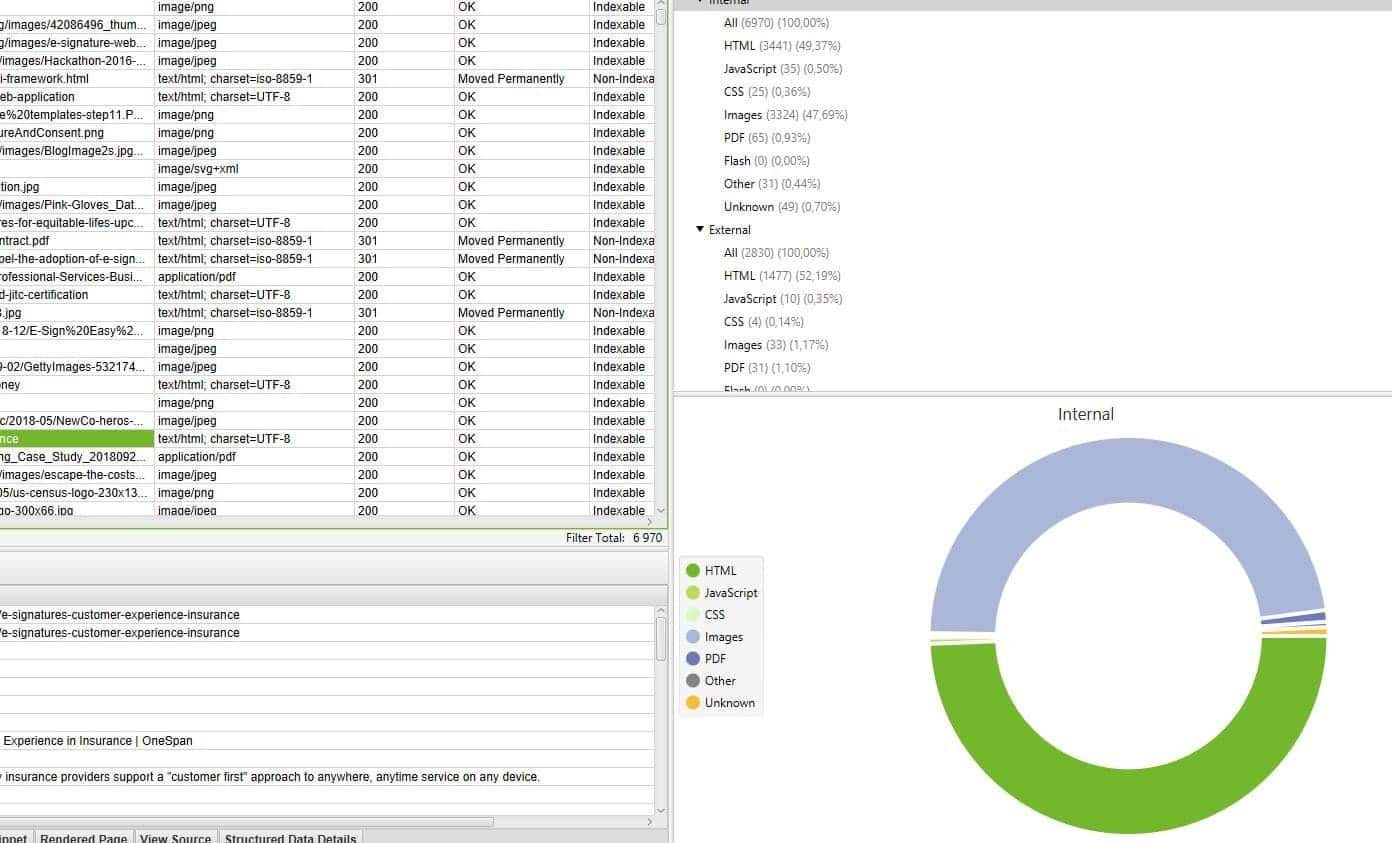 Measure competition / keyword difficulty
When it comes to choosing the keywords for your SEO strategy, it's essential not to rely solely on search volume. Let's take the example of a judo competition: if you only weigh 60 kg, you would not participate in the category of more than 100 kg, would you? The same goes for your SEO: it is crucial to know the keywords on which you can successfully position yourself.
Keyword difficulty, also known as "Keyword Difficulty", is an indicator that allows you to evaluate the work required to position yourself on a specific keyword.
There are different methods for calculating this difficulty and different tools can provide varying estimates. However, they are usually based on a common criterion: the reputation of websites that rank at the top of search results. The higher the ranking sites have a high domain authority and benefit from a large number of inbound links (backlinks), the more difficult it will be to rank on this keyword. We will give you more detailed information about this in the coming weeks.
To assess the difficulty of keywords, you can use various tools recommended by BlackcatSEO, such as Semrush, Ahrefs or Moz Keyword Explorer. These tools can also be useful for performing an overall SEO audit. If you don't have access to these tools, you can also manually enter the keywords you're interested in in the Google search bar and review the domain authority of websites that rank first. If these sites seem to be "heavyweights" rather than "featherweights", it may be a good idea to revisit your keyword choices.
Another indicator of competition for a keyword is the position of your competitors in search results. Tools such as SEMRush or Ahrefs can provide you with information about the position of your website and that of your competitors for a specific list of keywords. Although less precise than the "difficulty of keywords", this information remains relevant to take into account in your study.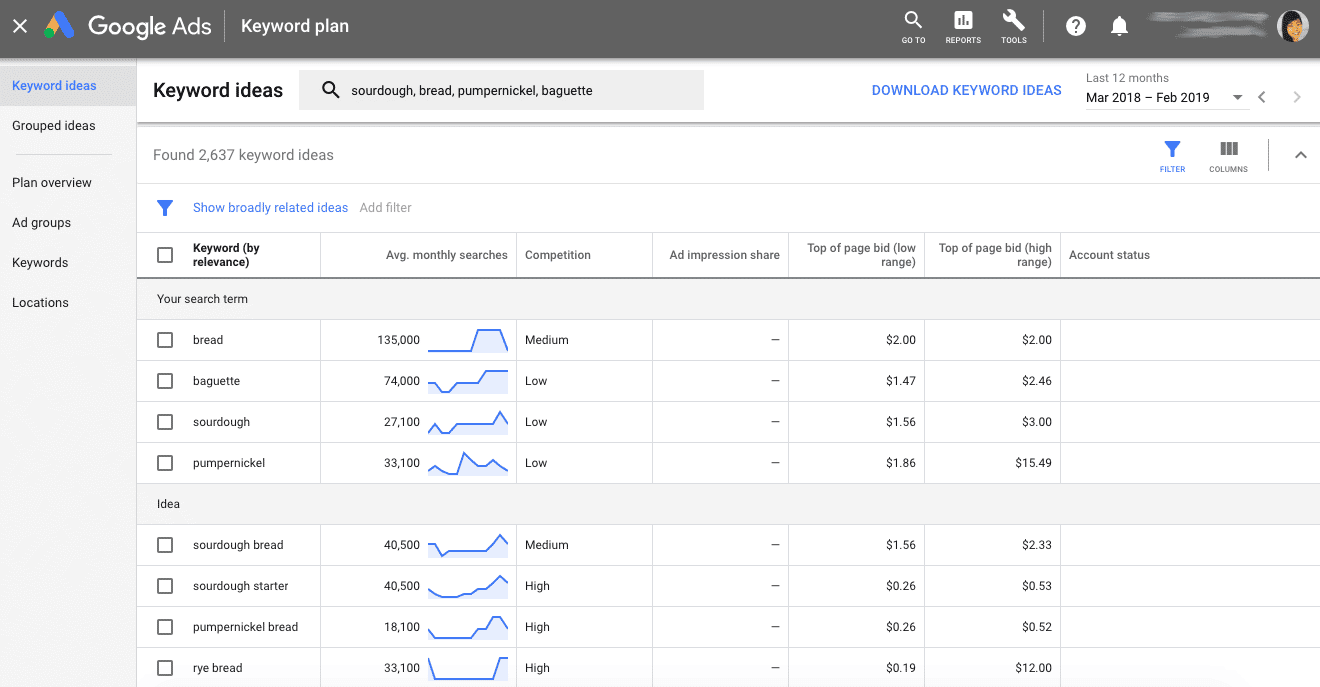 Rank for keywords
When it comes to sorting keywords for your SEO strategy, it's important to consider their relevance to your market and business.
When sorting keywords, you can group them according to their relevance to your business. Core target keywords accurately describe your business and have a high chance of conversion.
For example, for a real estate agency in Brossard, keywords such as "apartment for sale in Brossard" or "real estate agency Brossard" would be
keywords of core target.


Direct keywords
are related to your market and can be used to provide information or establish your expertise. For example, for a beauty company, keywords such as "makeup tips" or "skin care" can attract visitors interested in these topics.

Finally, indirect or remote keywords
can rank for secondary blog posts or have no direct connection to your business. For example, a digital marketing agency could rank keywords by industries such as "marketing for restaurants" or "marketing for tech companies." Using these sorting levels, you can select the keywords that are most relevant to your SEO strategy.
Choose by relevance and volume
To choose the right keywords and optimize your SEO strategy, several criteria must be taken into account.
Relevance is the most important criterion, as search engines use semantic search to identify the theme of your page. It is therefore essential to use expressions that best describe the subject of your pages.
Search volume is also an element to consider. Keywords with high search volumes have high potential to drive traffic. However, avoid focusing only on high-volume keywords if they don't match your business. It is better to focus on relevant keywords even if they have lower volumes. Finally, evaluate the competition using the difficulty indicator. If your site has a strong domain authority, you're more likely to show up in search results for high-demand keywords. However, long-tail keywords, which have lower volumes but less competition, offer great opportunities, especially when launching a new website. By targeting localized long-tail keywords, you can attract a specific audience and increase your chances of conversions, for example by using phrases like "griffintown shoe store."