Content Marketing in 2023
Content is not only king, but also provides ROI (return on investment), among all the marketing acquisition channels at your disposal.
When it comes to informing the reader, our SEO agency in Montreal makes it a point of honor to create content for the user, in order to guide him in his purchase process, or to inform him technically, economically, or even in terms of emotions and sensitivity in relation to specific issues.
Creating good, qualified and indexable content is above all putting yourself in the place of the user who encounters a question, and who wants to find a relevant and true answer. In general, SEO best practices will stick to the best practices of intelligent communication for the human user.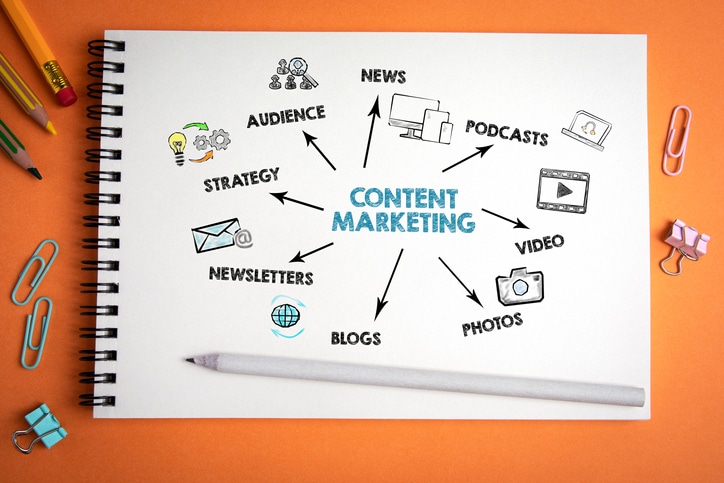 Content marketing: what is it about?
Content marketing, also known as content marketing, is an approach that involves creating quality content for the web. One of the variants of the communication strategy, or SEO and lead acquisition , this discipline aims to make itself known and attract the attention of the target audience.
It is important to point out that content marketing is not just about designing blog posts, during the website redesign. To adapt to all communication channels, content can come in a variety of forms, including:
Newsletters
The images
Videos
Audio files
webinars;
Infographics
investigations…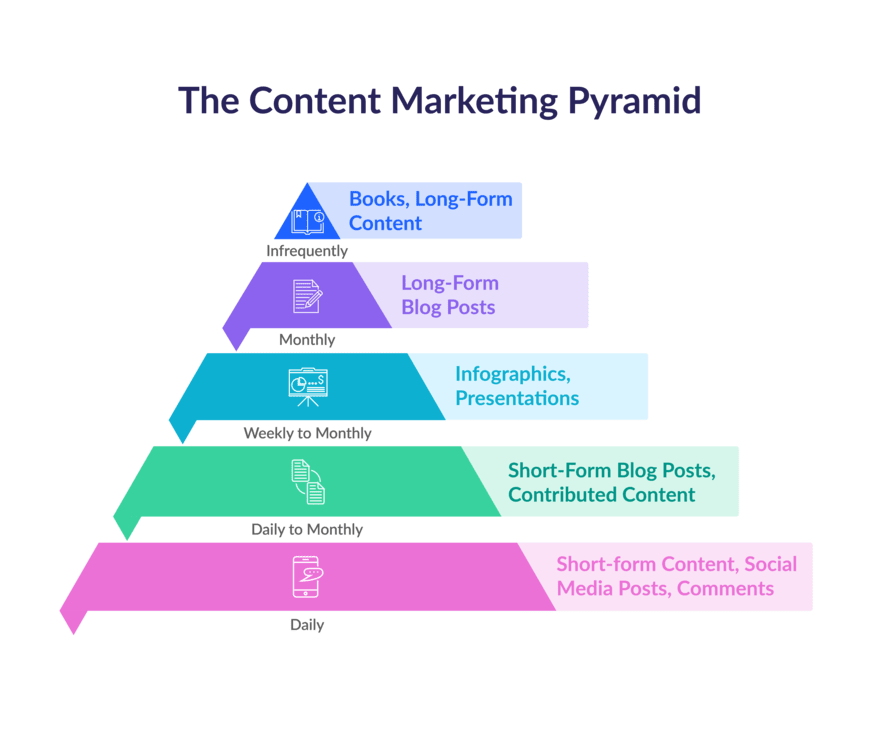 Why is Content Marketing Essential?
Content marketing is a fundamental pillar of any successful digital strategy. It involves creating and sharing relevant, high-quality content to attract and engage a target audience, with the ultimate goal of driving conversions.
The relevance of content marketing in today's digital ecosystem cannot be underestimated. It boosts your brand visibility, builds trust with your audience, and improves your ranking in search results. In summary, we can focus on:
Amplify your brand visibility :
Serious studies, (we're talking about HubSpot), companies that feed their blog consistently have a 67% more lead return compared to those that don't. In other words (and this is rather striking), the Content Marketing Institute reports that content marketing is 62% less expensive than traditional marketing methods while producing about three times as many leads.
Build trust with your audience :
Trust is key. And for good reason! Research from Demand Gen Report suggests that 96% of B2B marketers see content produced by experts in the field as more trustworthy. What's more, nearly half of shoppers (47%) said they had viewed between 3 and 5 pieces of content before starting a sales discussion.
Optimize your position in search engine results :
That's what interests us, as an SEO and content agency, obviously! According to SEMrush research, quality and well-referenced content is the most important criterion for ranking in Google's search results. In fact, websites that run a blog have an average of 434% more pages indexed by search engines, which increases their visibility.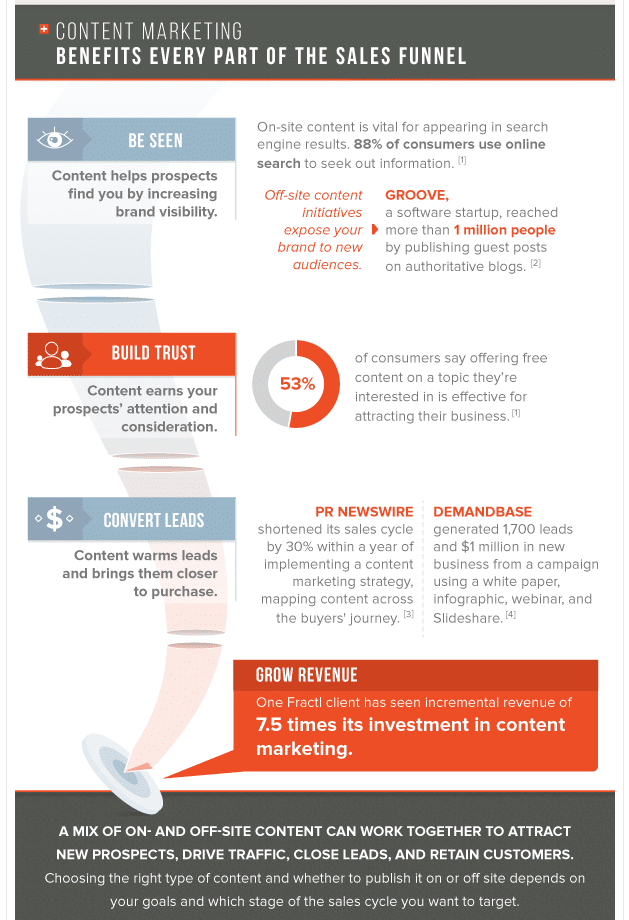 What steps to create quality content for the web?
In order to offer a quality service, the digital content marketing agency offers a complete service. Generally, she takes care of the following steps:
Designing a content marketing strategy
Producing web content
Putting web content online on communication channels
Natural referencing of web content
full audit.
To carry out your project, its missions are varied.
How to Create an Effective Content Marketing Strategy?
Identify your target audience
Before creating content, it's essential to know who you're creating it for. An in-depth knowledge of your target audience can greatly influence the type of content you produce, the tone you use, and the channels you choose for its delivery. For this, you can develop "personas" for your audience, which are semi-fictional representations of your ideal customer based on market data and research. These personas can include information about your audience's age, gender, job, hobbies, challenges, and goals. By understanding what your audience wants and needs, you can create content that resonates, engages, and converts.
Define your Goals
An effective content marketing strategy should be guided by clearly defined objectives. These goals can vary depending on your business needs, whether it's increasing your website traffic, improving conversion rate, building brand awareness, or building customer loyalty. These objectives must be specific, measurable, achievable, relevant and time-bound (SMART). For example, instead of just wanting to "increase traffic," you could set a goal of "increasing organic traffic by 20% in the next 6 months." Goals give you a clear direction and allow you to measure the effectiveness of your content strategy.
Create Quality Content
Content quality is a crucial factor in content marketing. The content you create should be relevant, engaging, and useful to your audience. This means that he must not only answer their questions and solve their problems, but also do it in an interesting and captivating way. This can take many forms, from detailed blog posts, to instructional videos, infographics or webinars. In addition, quality content improves your SEO, which can increase your online visibility and attract more traffic to your site. Finally, the content you create should reflect your brand and its values, in order to create a deeper connection with your audience and strengthen their loyalty to your brand.

We create all types of content
Knowing how to use the right type of content to reach your target audience can make all the difference between a content marketing strategy that takes off or stagnates. We're here to help! Whether it's in-depth blog posts, captivating videos, explanatory infographics, or compelling case studies, each format has its own unique role to play. Let's take a deeper look at these different types of content, their specific benefits, and how they can be optimally used to boost your content marketing strategy.
Blog posts are a mainstay of content marketing. Not only are they an effective way to share in-depth and useful information with your audience, but they are also very beneficial for SEO. By incorporating relevant keywords, you can improve your search engine rankings, which increases your site's visibility and attracts more traffic. Additionally, blog posts can position your brand as an authority in your industry, providing expert insights and in-depth knowledge.
Videos have become a must-have tool in content marketing. They are particularly effective in captivating your audience's attention and explaining complex concepts in a simple and engaging way. According to a HubSpot study, 54% of consumers want to see more video content from a brand or company they support. Videos can be used for a variety of purposes, such as tutorials, product demonstrations, customer testimonials, or behind-the-scenes tours of your business.
Infographics are a great way to present information in a visually appealing way. They simplify complex data and make it more digestible for the reader. Infographics can increase engagement, as they are often shared on social media and other online platforms. They are perfect for representing statistics, workflows, lists, and comparisons in a concise, easy-to-understand way.
Case studies are a valuable tool to show the effectiveness of your products or services. They highlight real stories of customers who have benefited from your product or service, providing tangible evidence of the value you can bring. Case studies add a personal touch to your content marketing and can help build trust and credibility for your brand. They are particularly effective in B2B industries, where purchasing decisions are often based on concrete evidence and verifiable results.
We repeat: Content marketing is much more than just a strategy: it is a formidable weapon that can turn a simple curiosity into real engagement and, ultimately, conversion. When skillfully orchestrated and deployed, a content strategy acts as a magnet, drawing your target audience to your brand and creating a lasting connection.
By improving your online visibility, you put yourself in the spotlight of the digital world. Let's take the example of the clothing brand Patagonia. By creating engaging and meaningful content, such as environmental documentaries and sustainability stories, Patagonia has been able to increase its online visibility, while positioning itself as a leader in the responsible apparel industry.
Trust is the cornerstone of any relationship, including between a brand and its audience. Software giant Adobe, for example, has established a relationship of trust with its audience through its blog, Adobe Create, which provides tutorials, tips and interviews with experts in the field of creativity. This valuable and relevant content builds trust by showing the audience that Adobe is not only a software provider, but also an expert in its field.
Finally, increasing conversions is the ultimate goal of any marketing strategy. The cooking blog, Minimalist Baker, has excellently demonstrated this reality. By offering simple and delicious recipes with mouthwatering photos, the site has managed to convert millions of visitors into devoted subscribers, and ultimately buyers of its cookbooks and online cooking classes.
FAQs