What is a SEO audit?
An SEO audit is a process of verifying a website in a number of areas. The main purpose of this process is to ensure that your website meets current standards for search engine usability (and search engine compliance).
You should expect:
A detailed analysis of your site's current status in terms of search performance, social media, link types, anchor text and other information related to your website
an action plan with a report outlining a comprehensive Internet marketing strategy plan
a list of ways to improve your website in terms of search performance and possibly conversions
Who should be working on your REFERencing audit?
If you have the budget, it is best to hire an SEO listener. Alternatively, you can use various SEO audit tools available on the web.
If you want to do the audit yourself, here's a look at the full analysis based on the following categories:
factors on the spot or on the page,
crawlability and indexability,
social media status,
off-site or off-page factors,
mobile
competitive analysis.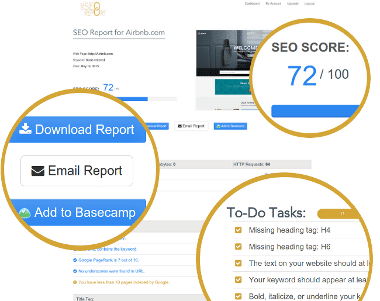 Preparing the SEO audit
Before you delve into the analysis, do as follows:
Explore the entire website to diagnose its problems. (Ed.: we recommend A1 Website Analyzer)
Check out Google tools for webmasters and tools for Bing webmasters
Review the site's analyses.
Site SEO and page factors
Titles and descriptions:
Should be unique for each page, in the specified width, and clearly indicate or imply what the page is and what the page has to offer.
The two A1 website analyzers
screaming frog
have settings to see the width of your titles. Tip: Page title pixel
Do the key pages have strong meta-descriptions?
URL structure:
No invalid character to be encoded in a URL (think of spaces translated into 20 in URLs or a dash with E2 80 94).
Clean structure. Readable by man. Guessable: www.example.com/clothes/men/socks/ lets guess that there are / clothes / women /
Text forming:
A correct and logical formatting. H1 for titles, H2 for subtitles, etc. p tags aragraphs. Use bold and italic characters for important parts, lists if necessary, etc.
content:
Should be unique and free of duplicate content. Make sure you have quality content for your most popular pages. Also check the length and freshness of the content. Merge pages with little or no content or pages with similar content using 301 redirects.
For old or outdated content, plan to make sure it's updated regularly and regularly.
Internal link:
Line the most important pages of the site via your menu/s. Interlink pages if necessary.
Make sure your internal links are working. You can filter your reports on the header status code. If you haven't used a tool to explore your site, use Xenu.
Outgoing links:
Make sure links point to reliable and relevant sites, using normal anchor text.
Avoid redirects: you don't want to give the impression that you're trying to "conserve" the ranking power.
Use the "nofolllow" value discreetly.
Check to see if there are any broken links.
Raptability and indexability
Google and webmaster tools for webmasters:
Check to see if search engine robots can access your website without any problems.
Check the "Exploration Errors" reports.
Robots.txt file:
Make sure this doesn't restrict access to important sections of your site.
Meta tag Robots:
Check all the cases where you refuse access: is this what you want? Are robots simply blocked or are they also forbidden to look at the links on this page and follow them?
In the robot meta-beacon and in the case of the robots.txt file, be sure to create "black holes" that suck, but don't transmit, your binding power.
HTTP status codes:
Identify and correct URLs that return errors.
Make sure redirects use HTTP 301 redirects. (To learn more about the type of redirects to use, click here).
Do non-existent pages return a 404 status code?
XML Sitemap:
Should be a well-trained XML document, submitted to your webmaster tools, as well as a current and updated website presentation.
Create a sitemap only if you can do so from your own data. Third-party robots can never be better than Google's own robots. Don't bother with them.
Delete sitemaps that just aren't up to scratch.
Number of indexes:
Know as much as possible how many unique pages should be on the site. Approximate if necessary. Make a site: search and see how many results are returned. Browse the past: how many results is written? Is there a notice that irrelevant results have been hidden? If this is the case, check the unfiltered view. Hunt what happens: this is a red flag for a site that becomes too large, that extends its relevance too much.
Social media status
Primary social presence:
Facebook corporate page
Google Corporate Page
Pinterest Business Page
LinkedIn Business Page
Twitter account
Youtube
Social profiles:
Must be complete, up-to-date and optimized within reasonable limits. If possible, add links to your site and other social properties.
Social commitment:
Quantify how your site accumulates social currency in each of the most important social networks. Assess the authority of the people who share your site's content to ensure that reputable and highly influential people share your content.
Social sharing buttons:
I like Facebook
Tweet
LinkedIn (if appropriate)
Google (idem)
Pinterest (idem)
Bulletin:
Is the distribution regular and regular or is it an expired call to action? Archives available on the web?
Rss feed:
Does it work? If so, does it only display excerpts to minimize the impact of scrapers
Off-site or off-page factors
Incoming links:
Check the links pointing to the site. Use a commercial service to get the best data. (Ed.: we recommend Majestic)
Pay particular attention to the anchor text. The brand, the domain, the "empty anchor text" (i.e. the image links) and generic terms such as click here should dominate the top 5-10. If the commercial anchor text (for example, "Buy cheap flowers") predominates, resolve this problem as soon as possible.
How is the trust of linked sites? Should you try to get rid of some of these links?
Is the site growing and losing links at a normal rate? If not, is there a concerted campaign to get bad links pointing to the site? Or does the site lose links too quickly – and why?
Branding:
Do a brand search to see if your website fits the name of your company or brand. The stronger the brand's association with Google, the more prominent site links the result will be.
trust:
Check out the tools for webmasters for DMCA reviews. Fix these.
Check the comments. Are they positive? If negative, does anyone treat them?
mobile
Mobile version:
Is there a mobile version of the site? Note what type: mobile (under) domain, responsive, adaptive. (To learn more about the difference between reactive and adaptive design, click here).
Viewport:
Is the display window (correctly) set?
conviviality:
Can the text be read or is the policy too small? Can you click on the links and buttons? Do you need to zoom in all the time?
menu:
Is it easy to get around? Are key pages and sections easily accessible? If something is neither on the menu, can you access it?
Competitive analysis
Compare:
How do the site's pages compare to the main competitors? better? worse?
to identify:
What does the competition mean that your site is not?
Opportunities:
What is missing in this niche? What is no one doing, including you?
Conclusion
REFERencing audit reports should be voluminous. The report should not simply list all the existing status of your site or errors, but must also contain concrete recommendations and suggestions on what needs to be done, repaired or corrected in every aspect of your website. It should be written to serve several audiences.
Given the number of aspects to be checked, a good report should have a reasonable and reasonable prioritization system. As a bonus, your listener can also add a list of free or online tools that can help you or help you with the audit.