The problem that many marketers face with the effective use of various types of content marketing is when they focus on only one part of the buyer's journey. They pigeonize by creating all their content to increase awareness (i.e. at the top of the funnel) or generate conversions (i.e. in the middle and bottom of the funnel).
This unbalanced strategy will not work because it does not hit consumers at every stage of the buyer's journey.
So why are marketers making this mistake? This could be a number of things, including:
Not knowing how to optimize their content for each area of the sales cycle
Have little knowledge about what makes content valuable to the consumer
Have limited resources to create content
These missteps lead marketers to drop the ball with their content efforts. We're here to clear up any misunderstandings about the different types of content marketing that are possible and show you how to use content marketing to optimize your efforts for each level of the sales funnel.
Types of content marketing to attract, convert and feed
Before you create any type of content marketing plan, you need to know your ultimate goal. Want to promote your brand in general? Are you targeting prospects who may be interested in your product or service? Or do you cultivate the relationship with those who are about to become your client?
The answers to these questions will help you identify the part of the sales cycle you want your content to target. Remember that you can't create a strong content strategy without knowing the results you want to achieve.
Before exploring the details of lead generation content, let's review the best types of content marketing for all stages of the sales cycle in the content funnel below: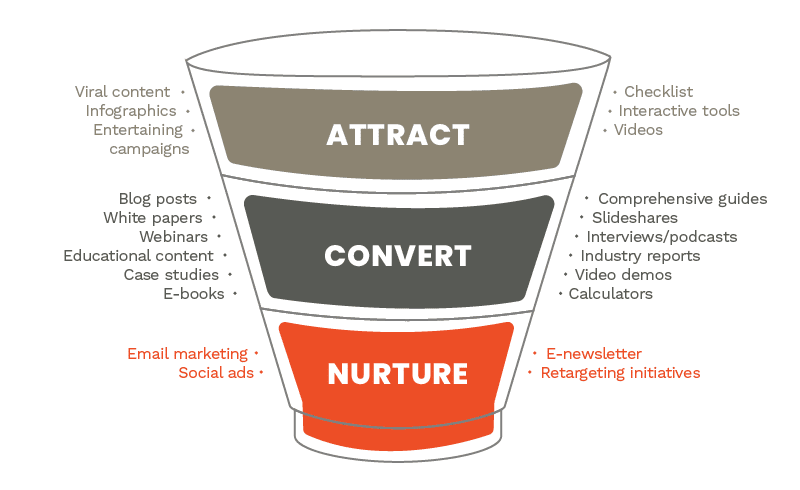 Attracting the stage: creating content that people want to see and share to increase awareness and traffic
At the beginning of the buying cycle, the goal is to make your brand known. You want as many people as possible to become familiar with your organization and what you provide. In other words, you want widely attractive content
Types of Content Marketing – Viral Content, Interactive Tools and Infographics
These types of content marketing are designed to appeal to authoritative sites that generate traffic and links, and for these reasons, the best content is something that has a mass appeal.
A great way to do this is to use emotional visuals. By nature, we are visual creatures, and our brain connects to images much faster than with text alone. In fact, an MIT study found that the human brain can process an image in as little as 13 milliseconds. Because our brains are wired to quickly absorb and interpret visuals, content that includes solid graphics works well in this part of the buying cycle.
Other types of content marketing to attract audiences
When you think about content ideas that attract audiences, you can also consider the following content marketing formats:
Videos and GIF

Checklists


Entertaining campaigns

Checklists can be created for an almost endless list of topics, and they are an excellent type of content marketing for the first stage of the sales cycle, as they are very useful and easy to share.
Readers don't need what your brand can offer at that time to use the checklist. However, it's a great way to introduce your business to new audiences and keep your brand in mind when your product or service is needed.
Entertaining campaigns are another type of content marketing that attracts new audiences because they appeal to a large group of people. For example, we created White Lies: Where Is the Line? DIRECTV by interviewing 2,000 people to find out their views on the lie.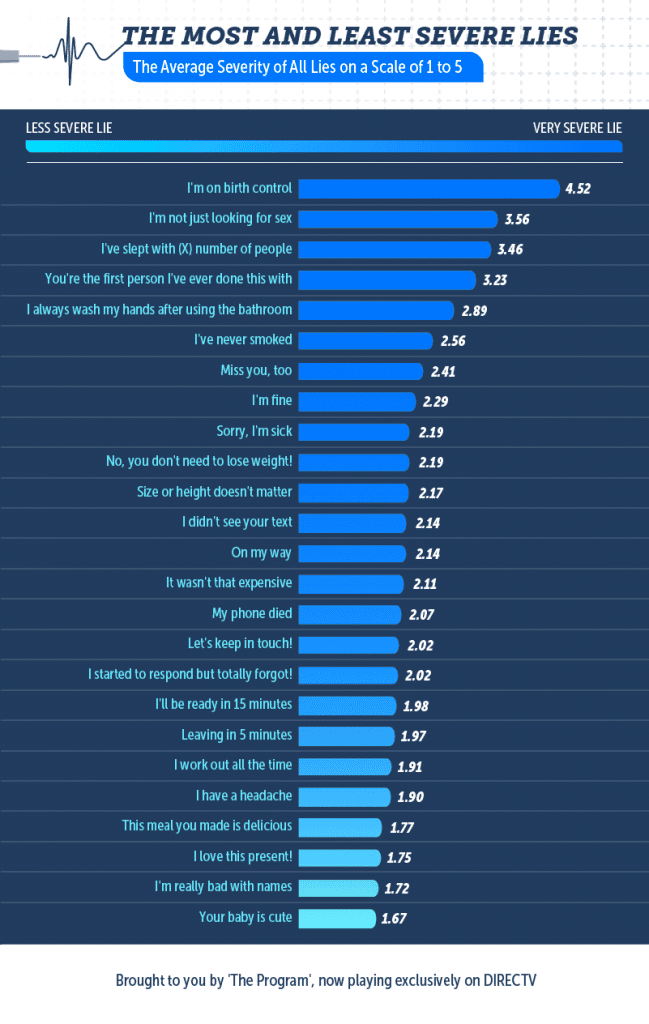 The results sparked so many conversations – and opinions – that Today featured him on one of their segments. Nearly 250 publishers also mentioned this, which was exactly the type of awareness coverage our client wanted.
Now that we've looked at the types of content marketing for the top of the funnel, let's take the next step: conversion.
Conversion Step: Create content based on conversion to target leads
When you no longer try to connect with a relatively unknown audience, you can focus on content that directly addresses your target consumers. This is called conversion-based content.
Conversion campaigns are designed to target consumers in a specific market and drive them to sales on your site.
This type of content marketing is hyper-targeted to a specific audience that probably already knows your brand and wants to know more or make a purchase decision.
It is important to remember that consumers do not start the purchasing process knowing that they need a product. Typically, consumers start the buyer's journey knowing they have a problem, so content that offers a solution is a great way to generate conversions.
Other types of content marketing to convert leads
There are many other content formats that are part of a lead generation strategy, including:
Blog posts

Educational content

Case studies

Ebooks

SlideShares

Interviews / podcasts

Industry reports


Video demonstrations
Development stage: providing content that strengthens the relationship
This phase of the purchase cycle is suitable for your prospects who have converted in a certain way (for example, have asked to be on your subscriber list) or who have already purchased from you. These are the people you really want to keep impressing – don't lose sight of them because you've already hooked them.
An e-newsletter is an effective way to build your relationship with customers. This is the perfect opportunity to drive traffic to your other content (for example, blog posts and large-scale campaigns). By doing this, you are:
help turn audiences interested in your brand into active and active customers


bring value to existing customers.

The second part of this encourages not only the repetition of customer activity but also the sharing of the brand. This happens when customers or customers are so satisfied with your product or service that they are happy to spread your brand's message.
Of course, your friendly customer service, quick shipping, etc. could spur positive conversations about your business, but high-quality content can also make customers become brand ambassadors.
Now that you know how content can be used effectively at all stages of the sales cycle, you probably have one last question: how do you find the resources to create content for each step?
How to recycle content to fit it every step of the sales cycle
For organizations with limited resources, the amount of content needed to reach each stage of the purchase cycle may seem a little overwhelming. But there is a trick to create enough content to complete all phases of the cycle: this is called reuse.
With reassignment, you can take a topic, data set or idea and turn it into multiple content elements that can work for each step of the sales funnel.
For example, you can reuse several blog posts that were originally designed to generate awareness in a white paper that targets a consumer further into the funnel by making it more specific and adding more examples Relevant. By simply updating or reforming your content, you can reuse it in different phases – ultimately maximizing your resources and optimizing results.
When the right types of content marketing are present at every stage of the buyer's journey, they are an extremely effective way to increase visibility, generate leads and close more sales. You'll want to set a content strategy that hits every phase of the cycle to get the most out of your efforts.