Also because they are being penalized under the pretext of 'manipulating search engines', we should always keep in mind some qualitative guidelines, before creating backlinks :
Do not build more links than the number of unique visits per day
Do not exceed 20 % similarity for each content posted
Never ping twice
Diversify anchors
Do not post in private networks
Updater lists regularly
Build a second and third 'layer' of links to favor a natural indexing.
Peace and security : we provide you the tools to keep control of your generation Backlinks.
In other words, we use automation to save time without compromising the quality of information and its true social potential.
Induction Hiérarchique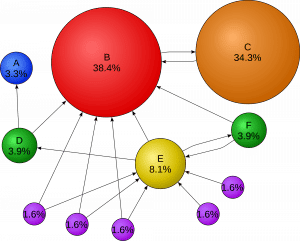 One of the biggest concerns for traditional backlinking strategies was to get direct backlinks to the main page or website. It is no longer effective. The latest updates Penguin & Panda quality sites, were related to trust these backlinks. Thus, external signals in algorithm changed slightly to spread the importance of a given link in its own backlinks.
The need to build different layers is directly caused by these changes – as explained here