More and more brands are turning to content marketing because of its efficiency and strong focus on consumers. The goal is to create an excellent user experience that will increase sharing, clicks and feedback – and this level of engagement can amplify the reach. You want to attract and retain customers by systematically offering relevant and valuable content, with an emphasis on media ownership rather than renting.
There is no ideal formula for success, but agencies can learn from each other about what customers want and what industry trends generate high returns. So what works? To find answers, Fractl and Moz surveyed more than 30 different content marketing agencies, asking questions about services, costs and scope. Here, we'll present three things to remember that reveal the current state of the sector and explore how agencies demonstrate a return on investment.
1. Most agencies produce up to 10 campaigns per month, with clients preferring static assets to dynamic assets.
Nearly 25 of the marketing budgets are allocated to content marketing, and this number is expected to exceed 30 over the next two years. It is clear that the industry is engaged, so we decided to take a closer look at how agencies manage their content marketing programs.
The results of our survey revealed that more than 65 of the agencies produce up to 10 campaigns per month for a single client, with fewer than five campaigns being the most popular option – nearly 50 more popular than running five to nine campaigns.
So what do these campaigns include? The most popular assets include articles and infographics – nearly 60 of the production, the items being 37 more preferred than the infographics. Case studies are the only other asset to gain more than 10. More dynamic content, such as graphics and interactive videos, accounts for less than 30 of the production. The least popular content includes animated graphics, apps, flip books, parallax pages, press releases, long content and white papers, all earning less than 5 each.
2. Content marketing campaigns have outperformed BuzzFeed native advertising by nearly 200 percent of the total number of links.
A key distinction between content marketing and native advertising is that the cost of sponsored content is largely associated with the Domain Authority (DA) – some publishers charge up to $200,000 for their native advertising programs. By analyzing native advertising cost data, we determined that the average cost of these programs with a DA greater than 80 and with more than 100,000 social media subscribers – prime locations sought by most brands – was $54,014.29.
However, ROI should not be measured solely by DA. All social sharing and links must be taken into account with the main locations to determine the return of your latest campaigns.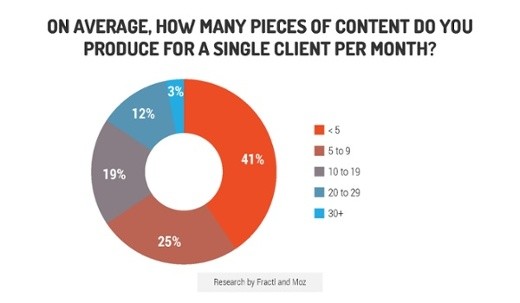 Using Buzzsumo's results for social sharing, we compared the scope of BuzzFeed's most successful native advertising campaign – "15 things we've done in school that future students will never understand" – to Fractl's most viral infographic to date.
Our results revealed that BuzzFeed's most successful native advertising campaign generated exactly 109,020 social shares and a backlink. By comparison, Fractl's has garnered more than 8,500 tweets and more than 316,000 Facebook likes with nearly 1,200 backlinks. This represents an increase of almost 100 shares and nearly 200 more links.


3. A higher budget for content marketing can increase the number of links by more than 160.

Our data also revealed that a customer's budget can have a significant impact on the number of links generated by a campaign. For example, clients who spend between $5,000 and $10,000, compared to those who spend between $1,000 and $5,000, saw a 136 increase in the total number of links generated by their campaigns. When the budget was increased to between $10,000 and $50,000, the total number of routes increased by 162.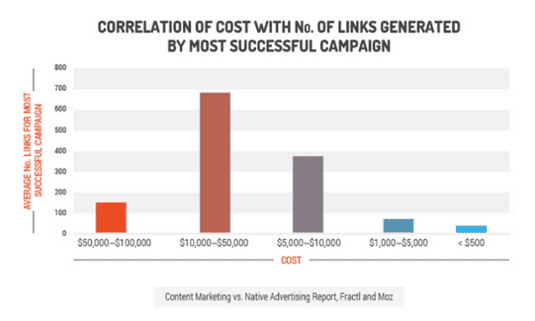 Keep in mind that there is no single strategy for successful content marketing. Key factors to consider for each campaign include global traffic, social sharing, total link numbers, and top-level locations. It's always possible to increase the return on investment of your content, so keep in mind this information about creating and promoting content as you think about your future content marketing strategies.