I meet a lot of people who believe that SEO operations lose its value, but I find that doing this basic work (simple but difficult) still works incredibly well.
In today's post, I'll share a case study of a travel site whose business plan incorporates a simple approach to creating highly qualified content on their site and then promoting that content effectively. They believe in building relevant content and marketing content with an emphasis on the end user, and as you will see, the results are impressive.
kimkim is an online travel company founded by a team of experienced entrepreneurs and engineers who have played key roles in companies such as TripAdvisor and EveryTrail. Their mission is to push the travel industry towards a more authentic and local experience while maintaining the high quality and confidence of the consumer. This is done in partnership with local travel guides, who create useful information and information to provide a unique personalized travel experience for their customers. These trips often take users off the beaten track, to places your travel agent might not think about sending you.
This approach certainly does not provide global coverage, but it allows the company to focus on providing superior content for each site it addresses. My belief is that this philosophy is a great driving force in this success story. In SEO, it is better to be excellent on a few points rather than mediocre on many.
The SEO plan and its implementation
The site's architecture was designed to allow content to start small and then evolve over time. As new countries are added to the site, it is first necessary to identify local experts who live "in the country" and get them to create the content for that country. This allows each new section of countries to quickly develop a comprehensive portfolio of content with an insightful local perspective.
Once their site was operational, a comprehensive audit of the site was conducted, including the use of analytics tools, as well as the exploration and analysis of data from Google Analytics and Google Search Console. These checks are repeated regularly to ensure that the site remains easy to explore and analyze by search engines so that problems do not begin to appear on the site and proliferate.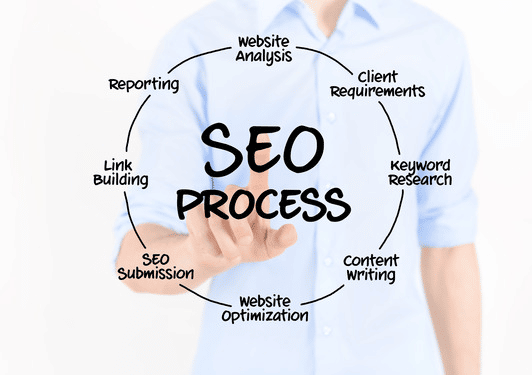 From a promotional point of view, local experts also help to develop the visibility of the site in the country, which often helps to attract many local links to the section of the site. An important part of SEO's plan was to develop and execute a detailed content plan for each country, leveraging local guides and ensuring that a wide range of content was created.
This task of managing the diversity of content creators, for many of whom English is not their mother tongue, has not been easy. However, it was worth it because it was essential to create a robust content portfolio for each country.
Outreach activities were then carried out at the local level, on the ground, on sites to let them know what Kimkim was offering from a service and content point of view. Many of them chose to create a link to the content,which helped to give visibility to the service. local guides have been a great help in the overall process.
Other outreach activities were carried out in local hotels and many sites were also mentioned in the content to ensure that all information was accurate and up-to-date. This awareness has given high visibility to local markets and has also led to numerous links to relevant national sections of the site.
Results
kimkim has experienced steady growth in organic traffic since the launch of its site. The site now ranks among the top five results for many high value terms, such as "Nepal travel expert" and "Manaslu trek". They have achieved incredible growth in traffic.

Currently, traffic continues to grow steadily, with occasional large bumps, as you see in January 2018. January is a month that usually offers a seasonal uplift, but when you compare January 2018 to January 2017, you see a pretty big difference.
This simply shows that the basic SEO blocking and addressapproach works. Simply offer a superior user experience in a sound site architecture and then promote that content effectively.