Google updates mobile-friendly test, rich results testing tools to better support JavaScript sites
Is your site built in JavaScript? Don't worry about it. Google has just updated two of its popular tools to support it.
Google has updated the mobile-friendly test and enhanced results testing tools to better support JavaScript sites. Google posted on Twitter that you will now see HTML rendering, console log, exceptions etc.
This means that those who build sites in JavaScript, AJAX and other forms of JavaScript frameworks can better debug their sites with these tools.
Here's a screenshot from Google showing how the mobile-friendly test tool makes JavaScript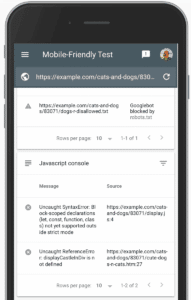 The mobile-friendly test tool shows you how easy it is for a visitor to use your page on a mobile device. While the enriched results test shows you search results that go beyond the standard blue link, they may include a carousel, image or other non-textual UI elements for your page.
Google also announced that they have a session tomorrow at Google I/O named deliver JavaScript search-powered websites that we recommend you watch.
Better for SEO agencies
This tool allows web referencing agencies to develop sites that are both suitable for users, and robots for search engines, which search the code of websites by searching for rich data.
Customers doing web referencing campaigns and having a site created on a JS basis can thus help their ranking, and break into markets where only 'classic' sites refer, historically.
It is therefore a new legacy for web designers, bringing together the best of two worlds: design, UI, UX, and technical referencing based on rich data crawling.