When it comes to digital marketing, organic lead generation is considered the holy grail. However, feeding organic tracks is as important as generating them. Not all your potential consumers will buy your product or service based on the first impression. You will have to convince them that they must choose your brand and tell them how it will change their lives.
Nearly 80 of the new leads never translate into sales. However, companies that excel at lead development can generate 50 more potential customers willing to sell at a lower cost of 33. Fed prospects also make larger purchases of 47 compared to unfed prospects.
Unfortunately, most traders treat traffic as an afterthought, which makes it useless. In other words, if you start developing your prospects from the beginning, you will be able to make the most of your marketing efforts. So how's it going?
Here are five tips that will help feed your organic prospects.
1. Create a customer journey and educate your prospects accordingly
One of the most crucial steps in developing organic leads is to educate your prospects according to their needs. However, the process starts with defining your potential client's journey.
The buyer's journey is a framework that recognizes different points of contact experienced by a person, from the first contact with your group to the purchase. The typical buyer goes through three steps, including awareness, consideration and decision. Consumers face different barriers at different stages of the journey. In other words, each of these steps requires different educational content.
A. Awareness
At the beginning of the trip, people look for answers, resources and insight into their problem. So you need to focus on sharing the latest trends, developments, community or user reviews and industry statistics.
B. Consideration
In the middle of travel, consumers are beginning to consider possible solutions to their problem. So target them with content that shows how your product or service will solve their problem. For example, you can invite them to a webinar or share free guides or eBooks with them.
C. Decision
At this point, they will decide to buy the most appropriate product or service. Be sure to share customer testimonials, case studies and product reviews to entice them to buy your offers, which is one of the work of your SEO agency.
Use this roadmap with the buyer's personalities to identify gaps and opportunities in your marketing strategy. Align your future content marketing campaigns accordingly. Segmentation of your organic leads will allow you to target your customers and measure your efforts more accurately. However, you will only need to use the cream of the cream of your content to get there.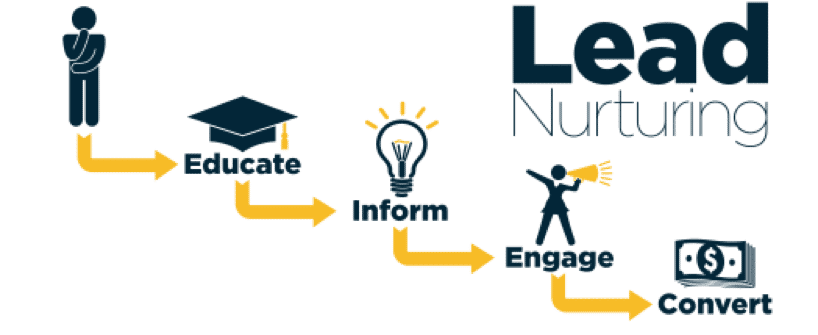 2. Create content that your target audience continues to dream of
Self-centered or commercial content has no place in digital marketing. While your competitors are primarily busy selling their product or service through content marketing, you need to focus on creating value. Providing value-added content is the best way to feed your organic prospects at any time in the buyer's journey.
In 2016, Frontline Education, a K-12 school administration software provider, used a well-planned content strategy to generate one-third of the company's sales pipeline. They wanted to focus on educating leaders in the education industry. For example, their content marketing team used a combination of customer interviews, internal subject matter experts and original industry data from Frontline Research and Learning Institute.
This approach worked, generating 32 of the company's new leads, while their development-encouraging emails experienced a 195-strong click opening rate. The content was so informative and educational that potential customers often responded to their emails by thanking Frontline Education. This is not a surprise. Frontline Education won the 2017 Content Marketing Award for Best Content Marketing Program presented by the Content Marketing Institute.
One of the best ways to create a content creation and marketing strategy is to check your existing content. You need to do extensive research on your website, blog, social media profiles and encouraging emails to understand what content is becoming more engaged. You can reuse this content and create new content in the same vein to improve your development efforts. You may even consider outsourcing your content creation responsibility or consulting with a content marketing company.
3. Create persona-focused email campaigns
Email marketing is perhaps the best way not only to generate new organic leads, but also to feed them. Without customization, however, your email information campaigns will have died in the water. According to the Litmus 2018 State of Email Survey, the top priority for marketers is to boost email personalization.
However, this only works if your customization efforts go beyond the name. You need to customize emails based on your prospect's behavior. It all comes down to personal content. You can create a buying character for each organic prospect based on their online behavior, location, season, weather, preferences and dislikes. For example, if a potential consumer shows interest in a particular product (online behavior), you can send them relevant tracking information such as discounts, offers and customer reviews.
Talkwalker, a social media analytics company, recently sent this personalized email (see below). The email urges their potential customers to take advantage of the free World Cup LIVE scoreboard before kick-off of the Football World Cup to create campaigns around football-related content. It's a great way to customize e-mail messages based on trends.
On the other hand, Amazon uses personalized emails to encourage shoppers to share product reviews. They also ask users to share their buying experience and review the product vendor. That is another way of doing it.
You can take this strategy to the next level by creating custom subject lines, headers and headers. Don't hesitate to include advanced customization such as dynamic content in your body of text and call to action (CTA). However, avoid sending emails too often or when they are less likely to be opened.
4. Don't rely on a single platform for traffic development
Don't get me wrong, email marketing is great, but not enough to feed your organic prospects. You also need to customize your marketing messages on other platforms, even if it's your own website or social media profile.
Using the intelligent or dynamic call to action is a way to target different visitors to the website. According to a recent study, custom calls to action convert 202 better than the traditional CTA. You can use Smart TACs to welcome visitors to your website by name or display personalized content based on location, browsing history, language preferences and personality Global. Dynamic CTAs allow you to present content for the lead buying cycle phase.
Zendesk uses the following dynamic CTA for visitors to the target website who are considering making a purchase but have not yet made a decision. They ask prospects to view a live product demonstration. It makes perfect sense to send this message considering the prospect's journey.
You can also use a dynamic CTA as an on-site message that leads prospects to the appropriate content based on their interest. While browsing a blog about using Instagram Stories to successfully campaign on social media, CoSchedule sent me a pop-up offering 100 free Instagram images. It's hard to resist such a tempting offer, isn't it? Interestingly, they also use CTA in a discussion box to encourage customers to subscribe to their mailing list.
5. Build Your Ecosystem of the Future
As you can see, traffic awareness involves a variety of tactics. However, they all focus on two things: listening to the needs of your prospects and providing them with the necessary information or answers. In short, you need to know exactly when, where and what needs to be delivered, which is only possible if all your tactics work in sync.
A. Set goals for content creation
A typical organic traffic development system has the following objectives:
Encourage prospects who have delayed their purchase to purchase the desired product.
Bring back the tracks that abandoned their trolleys.
Remind existing customers to come back to find out more.
That's why you need to create a standalone system that can produce, distribute and analyze the content generated to achieve these goals.
B. Set a scenario for content deployment
Whether you're sending emails or push messages, it's best to create a content distribution cycle. For example, sending 2 to 3 emails in a typical track development cycle is a good idea. But separating them in the first, second and third weeks is even better. Send them too frequently and users will certainly opt out of your mailing list.
Separate words
Organic lead sourcing is an essential aspect of digital marketing. If done right, it will allow you to outperform your competitors, especially those who do not use this tactic. However, it will take testing to create a functional and effective lead management policy for your business. Hopefully, these five tips will be useful in generating an appropriate strategy and reducing experimentation. If you are still confused, submit your questions in the comments section below. We will be more than happy to help.
Based on the excellent SearchEngineWatch.