Link Building
Building links (link building) is a discipline to create inbound links to get higher rankings. Ranking algorithms are now composed of thousands of signals, backlinks but are always a key element in evaluating the quality of a page.
Precautions on Link Building:
Google and the major search engines have embarked on a crusade against any attempt to manipulate rankings. All filters penalty established have disturbed many online businesses for several years, helping to create a sense of panic and confusion regarding the relevance of backlinks in any SEO strategy.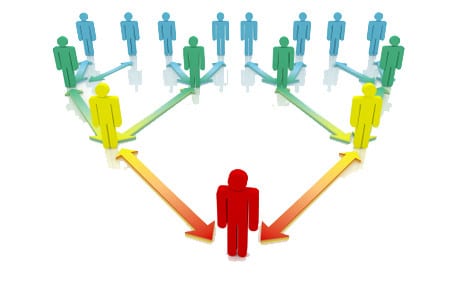 Links returns are always a major part of the strategy assignment of a site's credibility, pour Google. Indeed, for the search engine, the number and strength of links pointing to a target indicates serious confidence. However, because of the multitude of backlinks acquisition techniques that have been developed in recent years, search engines have penalized the directories networks, networks or blogs submission PREMIUM Articles. Increasingly, privileged links are 'natural', to gradually build the authority of a domain and deeper pages. Any building backlinks and follows the recommandations SEO de Google inasmuch as :
The deployment of links does not happen on a single, identifiable segment
The link provides a wealth of useful information for the user
A social activity around these links indicating their truthfulness
Performance indicators links themselves contribute to those your site
How we help ?
We treat each market separately, and manually analyze the possible partnership opportunities in your niche to build contextual links.
Our unique tools target the better sites to provide useful content. Generally, we work this content together to develop and adapt the knowledge potentially viral. Using a unique technology allows us to simulate a natural activity around these contents : creation and sharing blogs, creation and sharing articles, local references, bookmarks, RSS, reviews and much more.
The origin of these links is controllable geographically to fit each market. The publication of these links is delayed in time to avoid detection and 'pattern'.
Finally, us unique tools check, validate and regularly monitor the quality of these links. A campaign is never isolated and, and a link is always shared by real people in order to certify the authenticity.
We support :
Thematic directories
Local directories
Platforms items
Services de Bookmark
Web 2.0
Blogs
Blog comments
RSS submission
Promotion Video
Expression engines & forums
Site de Press Relealse
Micro blogs
Only partnerships, thematic directories and blog comments and forums go through a manual process exclusively. All other segments of backlinks should be treated with priority, in order to enjoy every step of the creation process (create the article, bookmarker l'article, partage social du bookmark, mention web 2.0 Social sharing, etc ...)
Thematic directories : Due criteria penalty with keys directories, it is important to manually select them according to contextual proximity, and Page Rank Site. We then use a software semi-automatic submission to recoup maximum time dedicated to this part of your strategy.
Unique texts : To maintain the strength of a backlink from an article 100% unique, we change the form of the text according to different synonyms, while maintaining the initial message of interest. This process is semi-automatic.
Submitting articles:
Test the BlackCatSEO SEO Montreal
We are building a site based on your criteria, and benefiting from best practices.
We optimize the code, performance, and content for both the robot and user .
We emphasize strong authority Backlinks for SEO results.
Paid campaigns are optimized on your site to not lose any traffic.
Increased number of links équivant to increased qualified traffic and sales.