Running an online business can be challenging since page visits do not directly translate actual sales. If you are an entrepreneur looking to grow your company or online shop, using sales funnels is the most reasonable thing. Sales funnels allows you to easily convert the page visits to sales. In other terms, they facilitate the process of converting a potential customer to a buyer. This is the customer's journey from the point they become aware of a product up to to the time they purchase.
Sales funnels offer you a simple and easy way of organizing your business online, making it faster and easier for a customer looking to purchase a particular product. Unlike websites that become very popular and only act as sites for holding your business information, sales funnels offer you as a business owner much more control. They are very engaging, thus end up creating experiences.
If you are an entrepreneur and are already familiar with sales funnels, you may have come across ClickFunnels and Kartra and may be wondering which one to go for.
Let's take a more in-depth look at the two and compare them before making a verdict and helping you settle on what's best for you and your business.
ClickFunnels
ClickFunnels was created so that entrepreneurs with limited tech and programming skills can create beautiful pages inside sales funnels with ease, to help them grow their companies online. ClickFunnels enables you to sell and promote products while offering online courses and other services to help you sell your business. ClickFunnels enables you to relate Landing pages, opt-in pages, membership sites, and also collect payment via PayPal. Some of the features are:
Drag and Drop Webpage Editor
Email and Facebook automation
Simple dashboard organization
Smart shopping cart with one click Upsells
Quickly build sales funnels that convert
You may be wondering what ClickFunnels will cost you to get started. They have two pricing plans, that is $97 per month and $297 per month. The cheaper option lacks essential features crucial in running an online business effectively, such as the ability to send emails and create an affiliate program.
When you upgrade to ClickFunnels Platinum, which is the $297 per month offer, you can connect and reconnect with your audience anytime and anywhere using multi-dimensional marketing. You will send highly-targeted messages to your customers through email, social, text messages, and even desktop notifications.
Benefits
i) Step-by-step guidance
This guides the customers through the entire process, which prevents them from getting confused or lost.
ii) Straight forward
ClickFunnels creates a straight guide to the particular product or service that the customer requires to solve.
iii) Follow-up services
You get the chance to follow-up on your customers even after they leave your page as ClickFunnels quickly captures your visitor's information so that you can generate new leads.
Kartra
Unlike ClickFunnels, which is a tool that helps you educate on online marketing and build sales funnels, Kartra is built to run the entire business. In Kartra, everything is connected to one another to boost performance and grow your business. It has an excellent Customer Relationship Management and Analytics Platform that enables you to access some of the following services:
A build-in help desk that gets all your questions answered
Receive payments
Access the membership Platforms
Every activity that your customer undertakes in the Kartra system offers you insights that are almost impossible to track using a different Email Service Provider. Kartra pricing is set up so that even if you use a fraction of the all-in-one system, the value proposition is still superior to other sales funnels like ClickFunnels.
Kartra only offers one pricing plan, and that is $97 per month. This tech-driven system has more features compared to ClickFunnels and also provides all elements in their packages.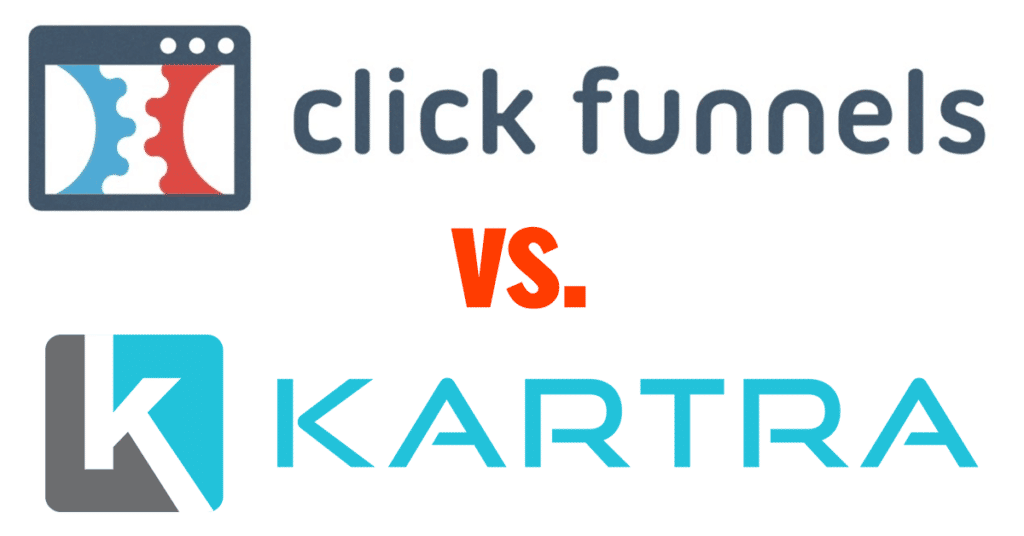 Benefits
i) Connected systems
In Kartra, all the systems are connected to create exciting experiences for visitors.
ii) All features
Kartra has many helpful and excellent features in running a successful online business, such as customer service, calendars, and analytics. All packages offer all features.
ClickFunnels vs. Kartra
Now that you are familiar with ClickFunnels and Kartra, the big question may be which one you settle for. It is important to note that each has its strengths and weaknesses.
While ClickFunnels tends to be more education-driven, helping people sell and promote products and services online and even courses, Kartra is tech-driven. ClickFunnels also offers you control over your business while Kartra seeks to control and run your whole business.
There is also a vast difference in terms of cost. As mentioned earlier, ClickFunnels has two pricing plans. The $97 per month comes with very few features, and you would be forced to upgrade to the $297 per month plan to enjoy crucial services such as sending emails and creating affiliate programs.
On the other hand, Kartra only has one pricing plan, which is $97 per month, and this package comes with all features that you would require to run your online business successfully.
ClickFunnels seems to have neglected essential services such as customer service, video marketing, calendars, and analytics that Kartra gladly offers.
The Bottom Line: ClickFunnels or Kartra?
In conclusion, you must know your business well before choosing either ClickFunnels or Kartra.
If you are a beginner, I would advise that you go for Kartra as it is cheaper and will still offer you all the essential tools to run your business. If you also don't have all that money to spend on ClickFunnels Platinum, you can also settle for Kartra as you will get all features in the package.
However, if you are looking to build an e-commerce business with a sales funnel, ClickFunnels would be an excellent option.
On the other hand, Kartra is excellent if you are looking to sell any information products online. It would come in very handy for coaches, gym owners, and the likes.
Therefore, know your business, its potential, and target audience very well before making up your mind. I hope that this article has been insightful and will play a key role in building your stat up or existing online business.