Building links (link building) is a discipline to create inbound links to get higher rankings. Ranking algorithms are now composed of thousands of signals, backlinks but are always a key element in evaluating the quality of a page.
Precautions on Link Building:
Google and the major search engines have embarked on a crusade against any attempt to manipulate rankings. All filters penalty established have disturbed many online businesses for several years, helping to create a sense of panic and confusion regarding the relevance of backlinks in any SEO strategy.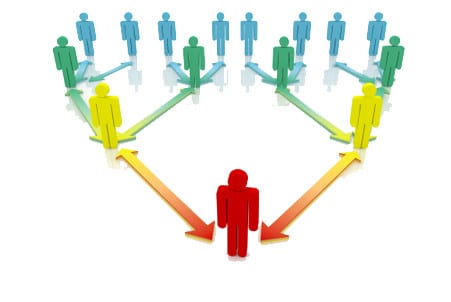 Links returns are always a major part of the strategy assignment of a site's credibility, pour Google. Indeed, for the search engine, the number and strength of links pointing to a target indicates serious confidence. However, because of the multitude of backlinks acquisition techniques that have been developed in recent years, search engines have penalized the directories networks, networks or blogs submission PREMIUM Articles. Increasingly, privileged links are 'natural', to gradually build the authority of a domain and deeper pages. Any building backlinks and follows the recommandations SEO de Google inasmuch as :
The deployment of links does not happen on a single, identifiable segment
The link provides a wealth of useful information for the user
A social activity around these links indicating their truthfulness
Performance indicators links themselves contribute to those your site
How we help ?
We treat each market separately, and manually analyze the possible partnership opportunities in your niche to build contextual links.
Our unique tools target the better sites to provide useful content. Generally, we work this content together to develop and adapt the knowledge potentially viral. Using a unique technology allows us to simulate a natural activity around these contents : creation and sharing blogs, creation and sharing articles, local references, bookmarks, RSS, reviews and much more.
The origin of these links is controllable geographically to fit each market. The publication of these links is delayed in time to avoid detection and 'pattern'.
Finally, us unique tools check, validate and regularly monitor the quality of these links. A campaign is never isolated and, and a link is always shared by real people in order to certify the authenticity.
We support :
Thematic directories
Local directories
Platforms items
Services de Bookmark
Web 2.0
Blogs
Blog comments
RSS submission
Promotion Video
Expression engines & forums
Site de Press Relealse
Micro blogs
Only partnerships, thematic directories and blog comments and forums go through a manual process exclusively. All other segments of backlinks should be treated with priority, in order to enjoy every step of the creation process (create the article, bookmarker l'article, partage social du bookmark, mention web 2.0 Social sharing, etc ...)
Thematic directories : Due criteria penalty with keys directories, it is important to manually select them according to contextual proximity, and Page Rank Site. We then use a software semi-automatic submission to recoup maximum time dedicated to this part of your strategy.
Unique texts : To maintain the strength of a backlink from an article 100% unique, we change the form of the text according to different synonyms, while maintaining the initial message of interest. This process is semi-automatic.
Submitting articles:
We create multiple accounts to target a higher rate of acceptance
Accounts and profiles are created separate locations
Automated in the administration log for each site
Automatically filled fields as defined instructions (Description, body, keyword, References)
Article submission
Automatic resolution of Captcha
Random quote contextual links defined
Automatic link checking validation
Naturally, process automation saves time, while maintaining all quality criteria and differentiation specific to a manual submission.
Création de bookmarks:
Social bookmarking has become an alternative to search engines as they are created and updates by real users, involved in the building of his comments and credibility online. Once the accounts are prepared, with the content and selected URLs, the process can be fully automated.
Web 2.0 profiles
Blacklinks of the profiles consist simply attach a URL to a site profile or forum. The main advantage of these links is that most web2.0 website or forums allow do-follow links (transferring a portion of the Page Rank)

Blogging :
Our unique tools include many blogging platforms, we're growing every month with the best new services. An effective strategy for building and transfer Page Rank is to generate relevant content on a network of different blogs and custom. In the same way that a private home user would, we multiply the benefits of indirect promotion, and argued.
Many visitors will be able to find these real blogs, helpful and information rich, and even participate.
Blog comments :
When properly prepared, in line with the topic of the page, blog comments are a great way to improve rankings, and the visibility and exposure in places where your future customers are. We choose the best sites to promote yours.
Feed RSS:
Posted each link can be converted to RSS Feed, which may itself be subject to aggregation sites RSS. At each update, these sites take into consideration new articles, online adding sound lien.
Expression Engines & Forums
More 150 sites with high Page-Rank, and the ability to add an infinite number of external sites, Our software allows submitting links in forums and expression engines'. Today, these links are used to build backlinks to your site.
Promotion Video
The submission of promotional videos, or explanatory, is a strategy to high added-value in terms of exposure, visibility, and SEO. Our software allows you to post a video the best video sites such as Dailymotion sharing, Youtube, Yahoo Spike, Vimeo - and more.
Press Release
We also deal in Press Releases, over 20 platforms syndication news about many niches and markets. And we strengthen the authority of your brand, while enjoying this privileged source of organic transfer.
Satus Net Micro Blogs
These blogs using the platform StatusNet (an open source platforms for Microblogging. Our software can post links on these platforms, reinforcing the backlinks created. This source of backlinks is undoubtedly one that allows indexing of the fastest.
Submission 'meta-indexing' which offers the backlink creates hundreds of sites 'whois', informing crawlers on creating your links.
Inform search engines via the best sites CPP 'Ping' such as Google, Bing, Yahoo - new content is available for crawl.
Backlinks Montreal
Rated 4.95/5 based on 201 reviews